What is HealthCamp Boston?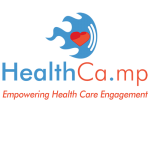 HealthCamp Boston is an unconference that is designed to provide a creative environment to bring together diverse groups of people who otherwise might not meet at traditional health or medical events. Participants themselves provide the content, with break-out sessions they develop themselves and plug into a schedule grid on the day of the event. Anyone can present and host a session in nearly any format. The agenda for the day grows organically as the conversations and ideas develop. Discussions cover topics such as participatory healthcare, the use of social media in healthcare and mHealth. Multiple sessions run in parallel. Participants will hear and network with some of the extraordinary and innovative people transforming health care.
When is HealthCamp Boston?
• Monday November 3, 2014. Registration opens at 8am. The event begins promptly at 9am.
Who is participating in HealthCamp Boston?
• Health innovators, advocates, and others interested in the changing nature of health care.
• Health practitioners (e.g., doctors, nurses, medical students, and other professionals).
• Patients.
• Entrepreneurs and developers.
• Payors and investors.
• Health policy experts.
Where is HealthCamp Boston?

The event takes place at the Microsoft New England Research & Development Center (NERD), a research and software innovation campus located in the heart of Cambridge, Massachusetts. The NERD campus spans two buildings with its primary presence and conference center located at One Memorial Drive and a more recently renovated and expanded space located at One Cambridge Center. NERD has become a hub of activity for the local tech community and has hosted many, many events — and HealthCamp Boston 2009 was the first! The organizers wish to thank Microsoft for their generous sponsorship of this event.
Tickets are available: http://healthca.mp/boston/register