HealthCampFlorida takes place in Tampa Bay, FL on Friday May 10th, 2013.
HealthCamp Tampa takes place at the Marshall Student Center, 4202 East Fowler Ave. Tampa, FL 33620.
I am looking forward to joining people at the event.
If you want to join a lively day of discussion and learning why not register: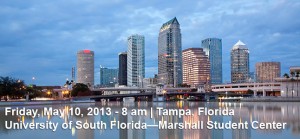 Liked this post? Follow this blog to get more.